Because VS&B believes in giving back to the community, we encourage our personnel to take responsibility as good citizens in supporting community organizations that work to improve the lives of others.
Incorporating this philosophy with our support for the President's initiative on volunteerism, our personnel have volunteered substantial time as well as pro bono legal services to many community organizations including, but not limited to the following:
Rotary Club of Venice-Marina, California
Optimists Club of Marina del Rey
Boys & Girls Club of Venice
Big Brothers of America
Venice High School
Chambers of Commerce
L.A. County Bar Barristers Homeless Shelter Program
An active Rotarian, David Voss was twice named Rotarian of the Year – in 2005-06 with the Playa Sunrise club and in 1994-95 with the Venice-Marina club where he also served as President and started an annual trek to Mexico to start Project Amigos. In 2008 Dave received the Silver Medal from the Office of the President of the United States in recognition of his time given to community service.
Project Amigos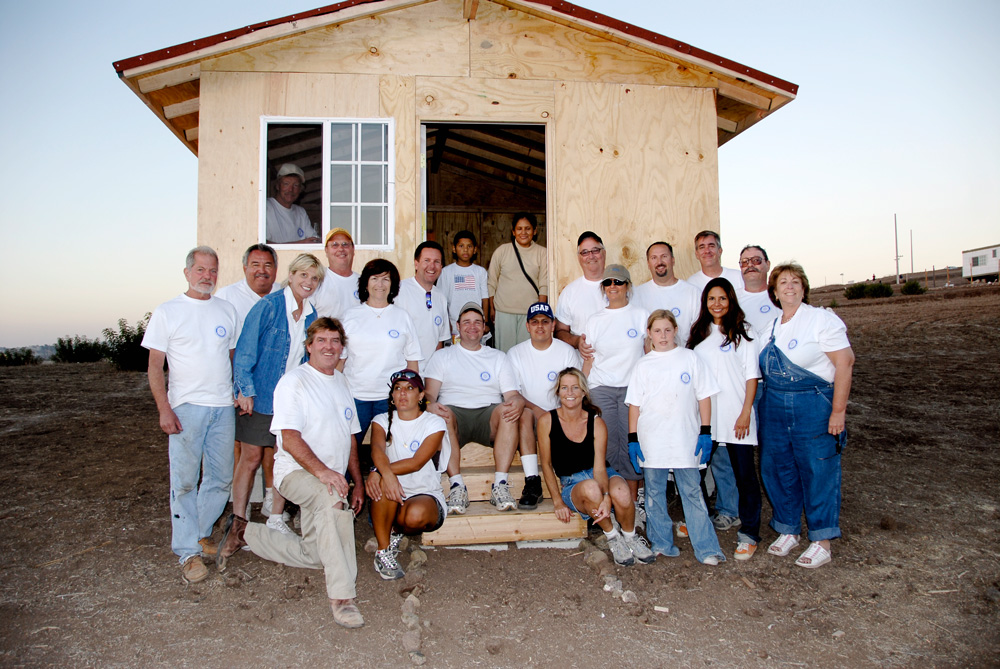 David Voss started Project Amigos during his year as President of the Venice-Marina Rotary Club and has continued to lead the project since.  Project Amigos is an opportunity to build a home for needy families in Tijuana, Mexico. By contrast to the better known Habitat for Humanity, this home lacks plumbing and electricity – it's not a new tract home, but rather shelter for those with nowhere to live.  The families are selected in cooperation with the Casa de los Pobres (House of the Poor) in Tijuana because they have the greatest need.  Again by contrast, Habitat for Humanity asks that the family actually pay for the home with a long term loan – the people served by Project Amigos have little or no income and would never qualify for such a home.  In our view, these people are in much greater need.
Thanks to the efforts of the Rotarians many new homes have been built.  Typically these families had been living in structures made out of cast off loading palettes and blankets hung up to keep out the elements.  We have been able to build homes with floors made from wood, not dirt and walls made from plywood, not blankets and a proper roof with tar paper that will not leak in the rain and a door and linoleum floor.  By our standards, it may not seem like much, but to these people it is a castle.  We are able to meet the basic needs of those less fortunate than us while also providing the opportunity to get our hands dirty making it happen.  Why is this project so successful and popular?  Because in a substantial way, we are able to truly make a difference in the lives of these people – a perfect example of the spirit of Rotary – "Service Above Self."
Boys & Girls Club of Venice Community Leader Award
In 2013, Dave was recognized for his 20 years of probono service to the Boys and Girls Club of Venice as its Community Leader of the Year. Below is a video created by the Boys and Girls Club and shown at the awards dinner that evening with a little more detail on Dave's work in the community.