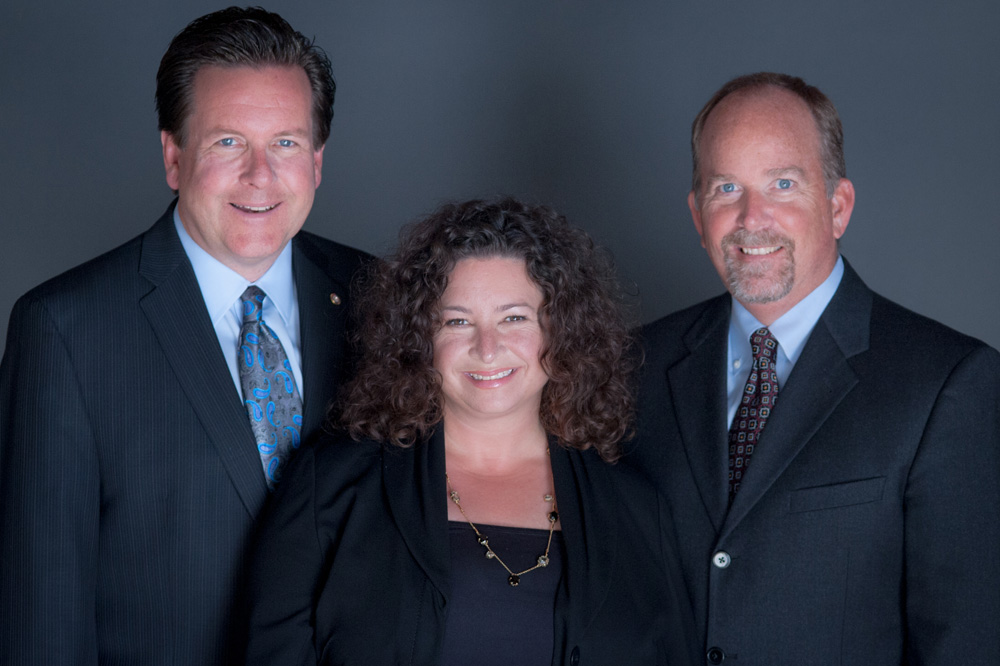 Voss, Silverman & Braybrooke, LLP
VS&B is a full-service law firm comprised of six attorneys together with attorneys who are "of counsel" in other specialties.
VS&B Team Attributes
David Voss primarily handles business and litigation matters including business formation, lease negotiation, real estate acquisition, harassment claims, and dissolution.
Rachel Silverman leads the family law team including divorce and custody matters.
Scott Braybrooke is in charge of civil litigation with a focus on personal injury, premises liability, and insurance bad faith.
As a whole, VS&B represents individuals, families, and corporate clients throughout the state of California. Representative current and former clients include GEICO, Vons and Safeway supermarkets; RLI Insurance, Long John Silvers; Pizza Hut; Taco Bell; and A&W restaurants in the Los Angeles area and throughout California.

Client Trust & Loyalty
As a trusted team for over two decades, at VS&B we are well-respected for our uncommon loyalty to our clients and our community by insisting our work is performed with the highest level of integrity, creativity, and tenacity. With each matter for each client, we discuss various options, we agree on clear goals, and we decide on a deliberate plan to achieve our goals before tenaciously pursuing them to the end.
Partner
After working for a major New York law firm and a local firm, Dave formed Voss & Associates in 1992 which became Voss, Silverman & Braybrooke LLP in 2007. In addition to being admitted to practice before the federal and state courts in California, he is also admitted to practice before the U.S. Tax Court. Dave has provided advice and analysis to numerous business interests including restructuring Trans World Airlines' West Coast subsidiary Trans World Express, Glabman Furniture and Superior Stamp and Coin.
Email: dave@vsbllp.com
Biography
Dave is a 1986 graduate of the University of Southern California Law Center where he won the American Judicature Society Award for Appellate Advocacy, and was selected to represent USC at the National Moot Court Competition. He also graduated cum laude with departmental honors from Occidental College and received a Masters degree in Political Persuasion. While at Oxy, he compiled a formidable record as a three time U.S. Intercollegiate National Champion in public speaking and was ranked number two in the world in 1982.
Dave strongly believes in supporting our community and encourages every attorney to participate in community based organizations. In recognition of this commitment, in 2004 Dave was honored as the Community Leader of the Year by the Boys & Girls Club of Venice where he now serves on the Board of Governors. In 2010 he was recognized by the LAX Coastal Area Chamber in 2010 with the Chairman's Award for "exemplifying community service." In 2001 the Westchester/LAX/Marina del Rey Chamber of Commerce gave him the Community Service Award "in recognition of exceptional philanthropic dedication to the community".
An active Rotarian, he was twice named Rotarian of the Year – in 2005-06 with the Playa Sunrise club and in 1994-95 with the Venice-Marina club where he also served as President and started an annual trek to Mexico to build a home for a family in need in conjunction with the Casa de los Pobres of Tijuana. In 2008 Dave received the Silver Medal from the Office of the President of the United States in recognition of his time given to community service.
He is a member of the Executive Committee and Board of the LAX Coastal Area Chamber of Commerce of which he was President in 2003-04 and currently chairs the Public Policy Committee. In addition, Dave is a founding member of the Neighborhood Council of Westchester Playa del Rey since 2001. Dave is also an appointee to the LAX North Runway Safety Advisory Committee which worked with NASA to examine issues relating to airport expansion and runway realignment.
He has also contributed his time to Los Angeles City and County government. Most recently he served as Commissioner for the Los Angeles County Commission on Judicial Procedures and chaired its subcommittee on Indigent Needs (2008-10). For the city he has served as member of the Board of Airport Commissioners (2004-05) and as the mayor's appointee to the West Los Angeles Area Planning Commission (2004).
On weekends, Dave is a serious sailboat racer with multiple national championships to his credit. His current "Piranha" is a Farr 40.

Partner
Since 1996, Rachel has brought a background of specialization in Family Law matters to VS&B. Outside of her client responsibilities, she has written scholarly articles for the Practitioner section of the Daily Journal legal newspaper on a number of Family Law subjects including the treatment of support in cases involving high wage earners, transmutation of assets, and the Uniform Child Custody Jurisdiction Act (UCCJA).
Email: rachel@vsbllp.com

Biography

Of recent note has been her success resolving Hague Convention abduction and wrongful retention and other high conflict child custody and visitation matters.
In addition to her admission before the courts of the State of California she is also admitted to practice before the U.S. Tax Court.


Partner
Scott earned his Bachelor's Degree in Philosophy and Economics from Franklin & Marshall College in 1983, and his Juris Doctor from the University of Southern California Law Center in 1986. While at USC, he was a member of the Hale Moot Court Honors Program. He also clerked with Thelen, Marrin, Johnson & Bridges in the medical malpractice department.
Email: scott@vsbllp.com
Biography
As a lawyer, Scott began his work with Gilbert, Kelly, Crowley and Jennett. When he joined Gilbert, Kelly, it was comprised of about thirty lawyers in two offices. When he departed after many years as a partner, it was comprised of about seventy lawyers in five offices.
Throughout his career, Scott has handled a variety of litigation matters with an emphasis on catastrophic personal injury claims. At Gilbert, Kelly, he was typically in deposition, arbitration, mediation, or trial virtually every day over the span of twenty years. He has taken over 250 matters to either a binding arbitration award or jury verdict.
In addition to handling matters for his own clients, he also serves as an arbitrator for the Los Angeles County Courts and as a private mediator.
Scott is a member of the California State Bar, the Los Angeles County Bar, the Association of Southern California Defense Counsel and the American Trial Lawyers' Association. He is admitted to practice before all California state courts as well as the United States District Court for the Central District of California.

Partner
Shelly Heimanson Newman joined Voss, Silverman & Braybrooke in 2007. For over seven years, Shelly has strictly devoted her entire legal career to complex family law litigation and child custody matters. Shelly began her career in family law in Northern California. Shelly moved to Southern California in 2002, and prior to joining Voss, Silverman & Braybrooke, Shelly was an associate attorney with Trope and Trope in Los Angeles.
Email: shelly@vsbllp.com
Biography
Shelly graduated from the University of Rochester in 1994, with honors, with a Bachelor of Arts Degree in Performing Arts and Psychology, and she graduated from the Hofstra University School of Law in 1997.

Associate
We were fortunate to have Brandon join us following his decision to relocate to Los Angeles from Ventura County in 2007. He has focused his practice exclusively in family law, initially with the family law specialty firm of Haffner & Pricola.
Email: brandon@vsbllp.com
Biography
Brandon is an Associate Attorney and a 2003 graduate of Pepperdine University School of Law which also afforded him the opportunity to study abroad in London. He obtained his B.A. (2000) in Psychology and Sociology from the University of California at Riverside.
Brandon is admitted to practice law in the California State Courts and the United States District Court for the Central District of California.

Of Counsel
Mr. Lewis is an experienced litigator and trial attorney whose practice has focused primarily on business, real estate, employment, bankruptcy, unfair competition (including class actions), and international matters. He has represented private and public sector clients throughout all phases of litigation, including jury and non-jury trials, arbitrations, mediations and appeals. Mr. Lewis' private sector representations have included major banking and financial institutions, real estate investment and development companies, national retailers, automobile manufacturers and rental companies, entertainment production companies, industrial manufacturers, cooperatives, Internet companies, telecommunication companies, and health care services. His public sector representations have included municipalities, city officials, state and local colleges, and non-profit organizations. In addition to his civil litigation practice, Mr. Lewis has also handled criminal matters, including the representation of an officer of Lincoln Savings & Loan in the People v. Keating state court action. As part of his white-collar practice, Mr. Lewis has handled arraignments, negotiated pleas, prepared witnesses for grand jury testimony, assisted in internal investigations, and litigated search warrant issues.
Email: jeff@vsbllp.com
Biography
A 1990 graduate of the the Univesity of California Boalt Hall School of Law, Jeff completed his undergraduate studies magna cum laude from Carleton College in Minnesota with a B.A. in International Relations. Jeff was affiliated with a number of other prestigious law firms in Los Angles before joining Voss, Silverman & Braybrooke as of counsel.
Jeffrey J. Lewis
Recruitment Manager